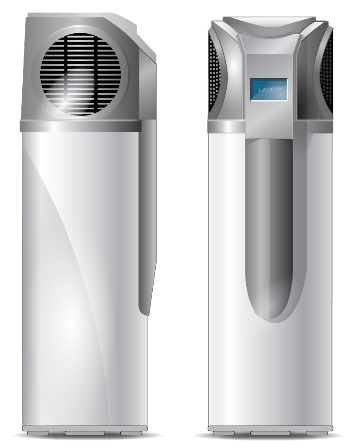 Heat Pumps Hot Water Systems Supplied and Installed To Your Gwelup Home Today.
Forget Gas, Forget Electric. Heat Pump Technology is the future of Hot water systems across Gwelup
Start Saving on Your Monthly Hot Water Bills Today with iStore Heat Pumps - Save Massively Each Month!
The iStore Heat Pumps are designed to reduce the cost of hot water generation for residents of Gwelup. Electric hot water generation is the single largest contributor of household electricity costs, by using electric storage you can significantly reduce your heating costs.
Using iStore's technology will greatly reduce your electricity costs while utilising effectively a renewable energy source.
iStore use's a type of technology that converts air into hot water through the method of thermal energy transfer.
6 Reasons Why Gwelup residents Should use iStore Heat Pump Economical:
The 4 operating modes intelligently adapt to all situations
 including a hybrid mode for when additional guests are staying over and a vacation mode for when you are away on holidays.

Optimal Design:
The external wrap around the heating coil, that provides maximum thermal energy transfer without the need for anti-corrosion connections. Easy to Install:
The iStore is quick and easy to install thanks to its light weight and refined design. Depending on your current system, the installation process can take up to 2 hours. Low Consumption:
The iStore consumes 1000w for the average resident of Gwelup of energy per hour during the air-to-energy process, which represents 3000 to 4000 watts in total for an average heating cycle of 3-4 hours.

Money and Energy Savings:
Heating water for the home accounts for up to 25% of the total energy usage for the average Australian household. iStore reduces water heating consumption by 2/3, while reducing CO2 emissions by 4 tonnes.

Cost Effective:
Thanks to renewable incentives, an iStore costs under $3000 and could save a household in Gwelup up to $950 per year on power bills. Which would mean that the iStore Heat Pump would pay for its self in just 3 years.
How The iStore Works:
1. The fan draws in air that contains heat energy which moves across the evaporator.
2. The liquid refrigerant is turned into a gas by the evaporator.
3. The refrigerant is pressurised by a compressor which turns the refrigerant into a hot gas.
4. The hot gas inside the condenser coil will then heat the water inside the coil-wrapping tank.
5. After heating the water the refrigerant reverts back to a liquid and continues on to the evaporator to begin the process again.
6. The cycle will repeat until the temperature that has been set has been achieved
7. While the water is being used in the home, the cycle will restart once the tank temperature has dropped to below 45 degrees celsius.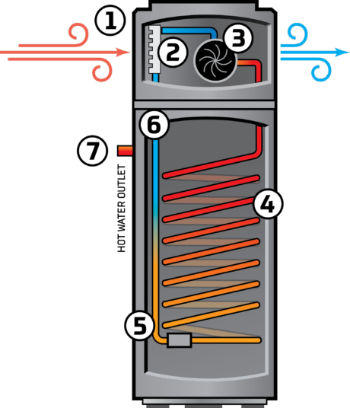 Technical Specifications:
Product Specifications
| | | |
| --- | --- | --- |
| Heating capacity | kW | 3.4 |
| Water tank capacity | L | 270 L |
| Power input | kW | 0.94 |
| Running current | A | 3.97 |
| Power supply | 240V | ~/50H z |
| Rated outlet water temp. | °C | 60 |
| Air volume | m ³/ h | 450 |
| Noise @ 1 m | dB (A) | 46.6 |
| Water inlet / outlet size | BSB / mm | 20 |
| Back up element | kW | 1.5 |
| IP Rating | | X4 |
Dimensions
Height
1955 mm
Diameter
640 mm
Height to water inlet
99 mm
Height to water outlet
1194 mm
Hot water condensation
Height to PTR valve.
Height to anode
1094 mm
Net weight
157 kg
Warranty Information
| | |
| --- | --- |
| Cylinder | 5 years |
| Refrigeration & electrical | 2 years |
| All other components | 1 years |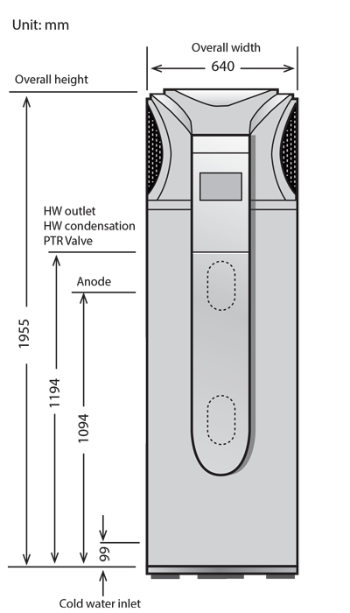 Water Heating Cost Comparison:
Hot water heating contributes to up to a quarter of the total electric costs for the average Australian household in Gwelup.
Heat Pump hot water systems reduces hot water heating consumption by two thirds from conventional electric or gas storage systems, while reducing CO2 Emissions by 4 tonnes.
Installing an iHeat Pump could save you up to $950 per year on your energy bills.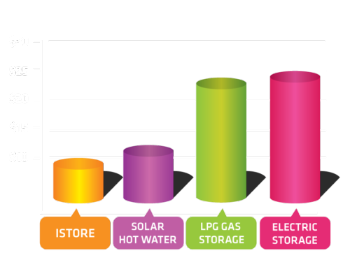 Energy Consumption:
Energy consumption in KWh per year based on 160L hot water used per day*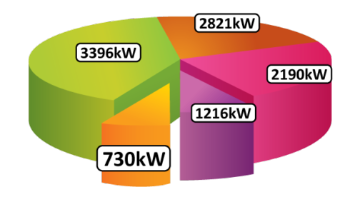 P.S. I work with some great Professional and Qualified Gwelup businesses which I can also recommend: